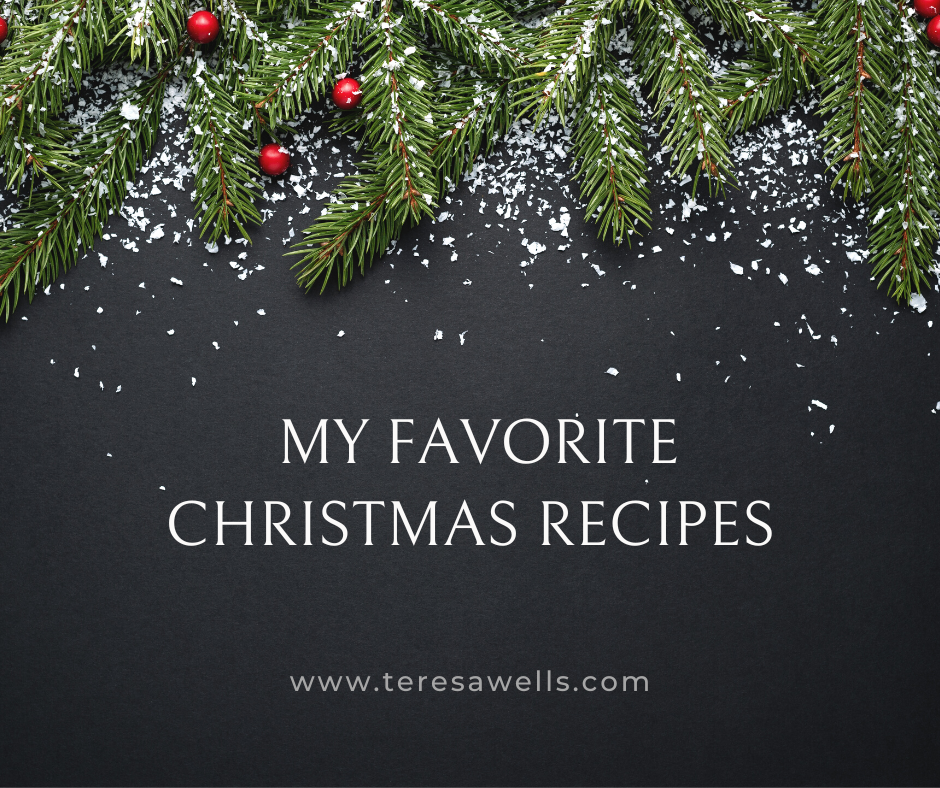 Christmas at the Wells' house means good food. Here are my three favorites! Try them and let me know what you think. Happy Christmas Cooking!


Green Chili Cheese Casserole
(Gingerbread and all the Trimmings Cookbook, Waxahachie, TX)

5 eggs, slightly beaten
¼ cup flour (GF: 1-to-1 Flour)
¼ teaspoon baking powder
½ teaspoon salt
10-oz cottage cheese
½ pound cheddar cheese, grated
1 stick butter, softened
1 small can chopped green chilies

Mix all ingredients. Pour into 8-inch square pan or small rectangular casserole dish. Bake at 350 degrees for 40-45 minutes. Cut in squares to serve. Serves 6.

A Wells family favorite!



Strawberry Bread
(Gingerbread and all the Trimmings Cookbook, Waxahachie, TX)
(Make this gluten-free by using 1-to-1 flour)

3 cups sifted flour
1 teaspoon soda
1 teaspoon salt
1 tablespoon cinnamon
2 cups sugar
4 eggs, beaten
1 teaspoon vanilla
1 ¼ cups vegetable oil
2 cups strawberries, sliced (I use frozen)
1 ¼ cups chopped pecans

Preheat oven to 350 degrees. Sift dry ingredients together in a big mixing bowl. In a separate bowl, mix eggs, vanilla, oil, strawberries, and nuts. Add to the dry ingredients, stirring just enough to moisten. Pour into 2 greased, standard-size loaf pans. Bake for 1 hour, and test with a toothpick or knife to make sure it's done (toothpick/knife should come out clean). Let the loaves cool 5 minutes before removing from pans. When cool enough, slice generously and top with butter for a wonderful treat. Makes 2 loaves.



Bacon-wrapped Chicken Breasts
The secret to a stress-free Christmas Eve dinner!
(Victorian Sampler Cookbook, Eureka Springs, AR)

1 can dried beef (this comes in a tiny glass container, usually located in the canned meat section)
1 package bacon, regular sliced (not thick sliced)
6 chicken breasts (usually mine are frozen, but I'm sure fresh is fine)
2 Cream of Mushroom soup (I'm sensitive to MSG, so I use Pacific brand)
1 16 oz sour cream
2 cups rice, prepare according to directions on package

Place chipped beef in bottom of large casserole dish. Wrap each chicken breast with one or two slices of bacon. Place on top of beef. Mix soup and sour cream, then pour on top of chicken and beef. Cover and bake at 275 degrees for 2 ½ to 3 hours, or until fork tender. Serve over rice.
Because the oven is at a low temperature, I put it in before Christmas Eve service, and it's done when we get home. Super easy!