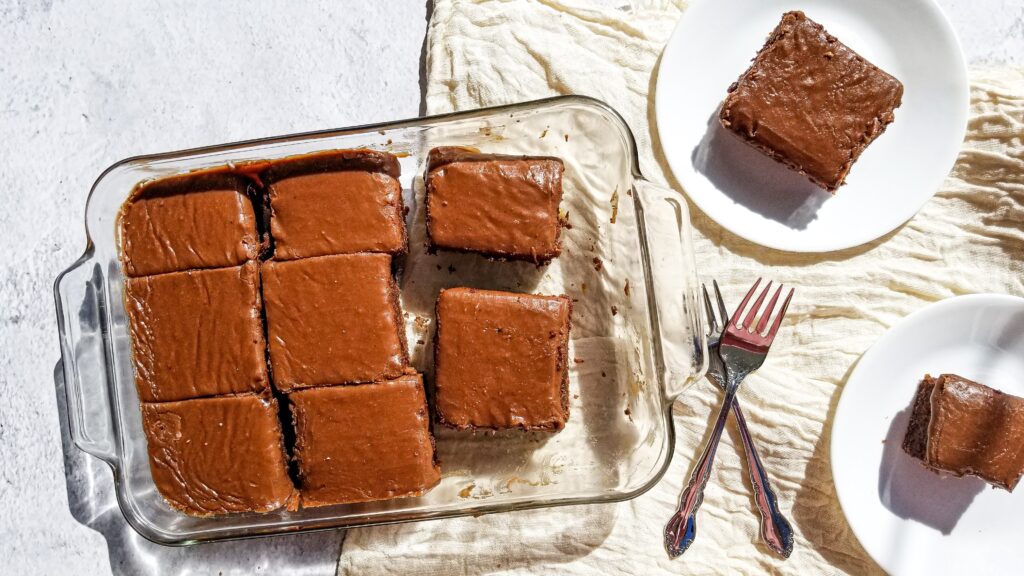 Who doesn't love chocolate?
Well, me.
Don't get me wrong. I love some forms of chocolate, like Snickers bars and Turtles candy. But straight chocolate isn't something I usually crave.
But Texas Sheet Cake is different. Have you tried it? It's amazing! It's moist and rich, and usually, a small piece will fill me up. Growing up, every time we visited my Aunt Bonnie, she made it. To this day, it's her go-to sweet treat for visitors, which makes this recipe all the more special to me.
In honor of the month that sings the glory of chocolate and love, I thought I'd share the recipe with you. It's not a quick and easy process, but it's worth the time spent. And I guarantee, if you take this to a gathering, people will bow at your feet. Okay, maybe not quite. But they won't stop talking about it, that's for sure. And they'll ask you for the recipe. Just send them here!
Texas Sheet Cake
You'll need a saucepan; mixing bowl; a long cake pan (I use a glass casserole), greased and floured; measuring utensils; mixer
Preheat oven at 400 degrees
Cake
1 stick butter
½ cup Crisco
4 T cocoa
1 cup water
2 cups sugar
2 cups flour*
½ cup buttermilk*
2 eggs
1 t soda
1 t vanilla
1 t cinnamon
Icing
1 stick butter
4 T cocoa
1 t vanilla
6 or 7 T milk
1 box powdered sugar
Optional: coconut or pecans to sprinkle over the top
Directions for cake:
Put butter, Crisco, cocoa, and water in saucepan. Boil until dissolved. Cool slightly. Sift flour, sugar, and soda together in mixing bowl. Pour the cocoa mixture over the sugar/flour/soda mixture. Add eggs, buttermilk, and vanilla. Mix well. Pour in greased and floured cake pan. Bake at 400 degrees for about 20 minutes or until done (test by inserting toothpick in the middle; if it comes out clean, cake is done).
Directions for icing:
In saucepan, boil butter, cocoa, and milk for 1 minute. Remove from heat and beat in powdered sugar. Add vanilla and optional ingredients. Spread on cooled cake.
Flour* If you desire this cake to be gluten-free, use 1-to-1 flour.
Buttermilk* If you don't have buttermilk (I never do!), substitute ½ cup of milk +1/2 T vinegar or lemon juice, and stir.
Enjoy!